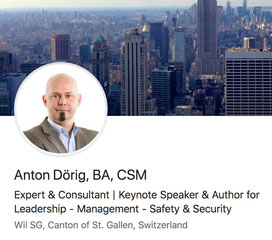 You are welcome to interconnect yourself with me on LinkedIn. Take the opportunity and learn more about it!
More than 20 years experience in various areas of private and public security & safety and in leading management positions at regional, national and international level. The own versatile, professional competence from practical experience is complemented by knowledge from studies in Business Administration and Security Management.
Many years of experience in various areas:
22 years in security, safety, emergency & crisis management
20 years in leadership & management
20 years in adult education & training
18 years in coaching & consulting
Welcome to my network!
---