International Success Story
Anton Doerig is an interview guest on an international podcast show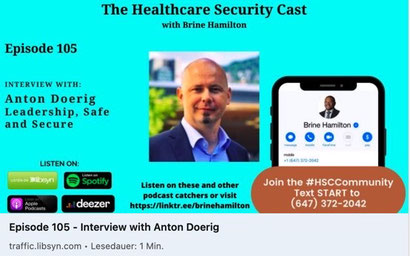 WHAT LEADERSHIP LESSONS DO YOU WISH YOU DIDN'T HAVE TO LEARN THE HARD WAY?
On this episode Brine Hamilton, CHPA is joined by Anton Doerig, B.A., CSM, F.ISRM discussing insights from his 25 years of security experience that he has encapsulated in his book, "Leadership. Safe & Secure" which is a very personal account of his journey and the lessons learned. We are giving away a copy of the book, tune in for details on how to win. In addition to an impressive security career and his writing, Anton also speaks 4 languages.

The Healthcare Security Cast - Episode 105:
Interview with Anton Doerig / LEADERSHIP. SAFE & SECURE.